INDUSTRIAL/WAREHOUSE UNIT WITH LARGE OFFICE CONTENT – TO LET UNITS A, B & C, HORNSBY HOUSE, WHEAL VROSE BUSINESS PARK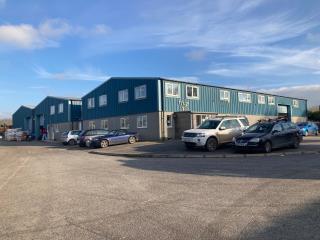 New proportional FRI lease for a term to be agreed.
Water Ma Trout Industrial Estate is located just to the west of the B3197. Hornsby House comprises a modern detached industrial/warehouse and office building with parking to the front and side and an area of open storage
LOCATION:
Helston is an historic market town well-known as the gateway to The Lizard Peninsula and the main centre for a wide geographic area. The town has recently been the subject of several new residential developments on the outskirts and the local economy is underpinned by a number of service personnel based at the Royal Naval Air Station at R.N.A.S. Culdrose, two miles south of the town. Helston lies at the head of The Lizard Peninsula, some 12 miles east of Penzance and a little under 10 miles west of Falmouth on the A394. The town has a resident population of approximately 11,000 persons but benefits from a wide catchment area, which includes The Lizard, and which has been estimated to exceed 27,000 people. In addition, due to the popularity of the surrounding area as a tourist destination, visitor numbers increase significantly during the summer season.

SITUATION:
Water Ma Trout Industrial Estate is located just to the west of the B3197 road linking Helston with Redruth on the north-eastern edge of the town. The property lies within the northern part of the estate.

DESCRIPTION:
Hornsby House comprises a modern detached industrial/warehouse and office building with parking to the front and side and an area of open storage to the rear.

Unit A comprises a warehouse unit with roller shutter loading door in the side elevation. The ground floor provides a reception office, showroom, staff room, warehouse and toilets. The warehouse area has an internal headroom of approximately 2.68 m.

Units B & C are linked by two covered openings. Unit B provides a ground floor reception office, toilets and warehouse space with an eaves height of 5.0 m and has a roller shutter loading door in the front elevation. Stairs from the reception office lead to a first floor office/staff room with fitted kitchen units.

Unit C is not currently sub-divided from Unit B and provides a warehouse on ground floor only. If Unit C were let separately a division wall would be erected together with a disabled toilet facility.

ACCOMMODATION: (All dimensions and areas are approximate)

Unit A Ground floor 401.64 m² (4,322 ft²)
First floor 380.96 m² (4,099 ft²)
Unit B Ground floor 420.13 m² (4,520 ft²)
First floor 58.17 m² ( 626 ft²)
Unit C Ground floor 346.66 m² (3,730 ft²)
_________ ________
TOTAL 1,607.56 m² (17,297 ft²)

Open storage yard 564 m² 6,070 ft²

LEASE:
The entire building is offered on a new lease on full repairing and insuring terms. Alternatively, the units are available separately or two units may be combined.

RENTS:
Units A, B C combined £100,000 per annum
Units A & B combined £80,000 per annum
Units B & C combined £60,000 per annum
Unit A £50,000 per annum
Unit B £35,000 per annum
Unit C £26,000 per annum
Storage yard £3,000 per annum

SERVICE CHARGE:
A service charge equivalent to approximately £0.20p per ft2 is payable towards the maintenance of the common areas.

BUSINESS RATES:
Rateable Value £41,500 – (from the 1st April 2023 the Rateable Value will be £44,250).

The Rateable Values will need to be re-assessed if the units are let separately.

For further information regarding rates payable and eligibility for small business relief contact Cornwall Council.
Tel: 0300 1234171.

VAT:
The property is registered for VAT which is payable on the rent and service charge
SERVICES:
The property is connected to mains electricity including a three-phase supply, mains water, mains gas and mains drainage. Gas central heating is fitted within Unit A. A fire alarm and security alarm are fitted. None of the services have been tested.

PLANNING:
Interested parties should make their own enquiries with Cornwall Council Planning Department to satisfy themselves that consent exists for the proposed use.

MONEY LAUNDERING REGULATIONS
In line with The Money Laundering Regulations 2017, Charterwood are obligated to verify ID for all clients that are conducting property transactions through the Company.

ENERGY EFFICIENCY RATING:
THIS PROPERTY HAS A RATING OF B (38)

Certificate Reference Number: 4683-3067-9321-3665-4022
Report Reference Number: 1249-2875-4465-2675-3201

VIEWING:
Viewing arrangements may be made through Charterwood on (01872) 261216.
Contact Stuart Sly or Rosie Brenton.